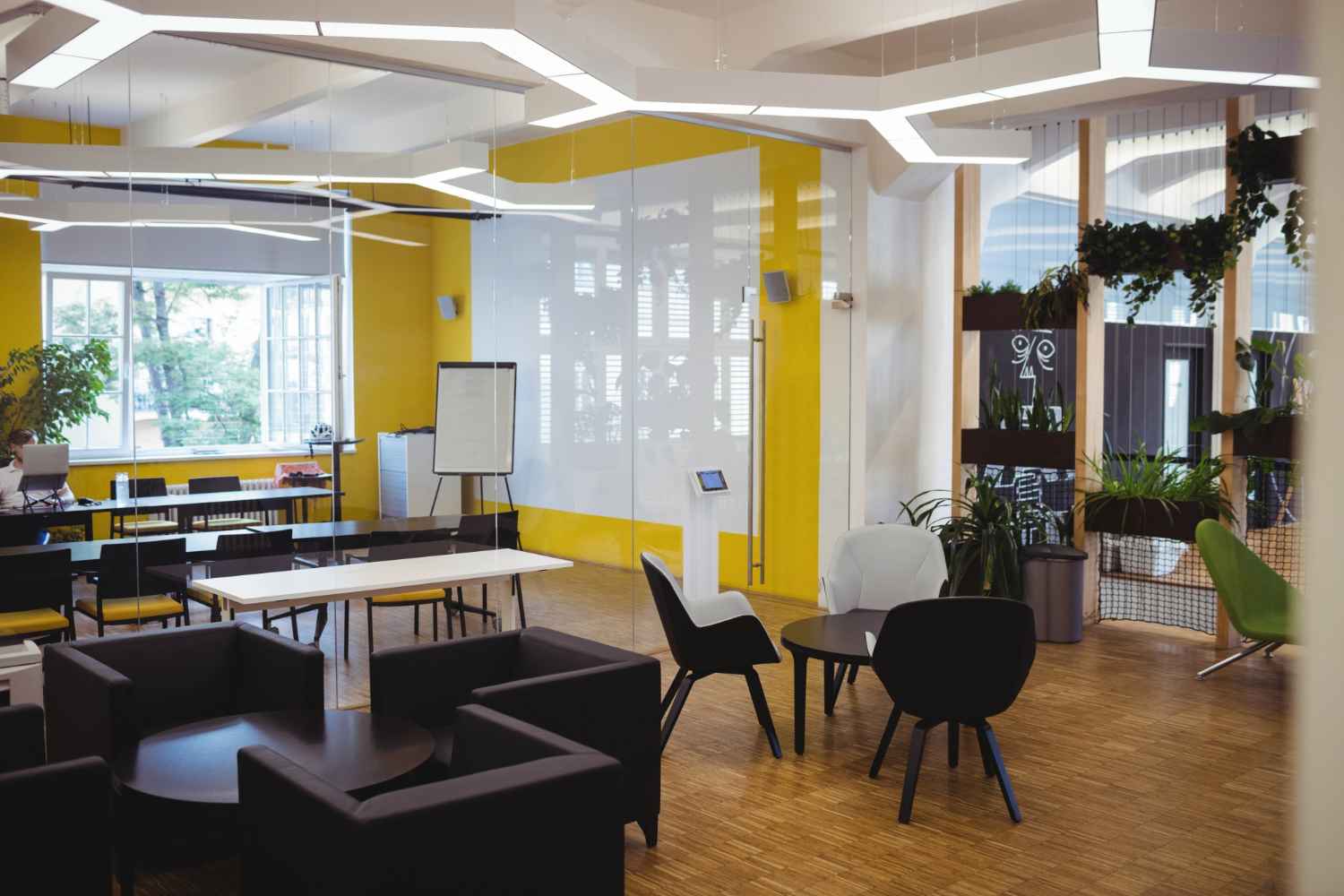 Design Meets Innovation: Get Your Workplace Ready for the Best!

Due to the explosion of new businesses, office interior design is regarded more seriously as a component of business success. Do you want to know how to design a great office space? This blog post will go over some of the most excellent methods for interior decorating your workplace to create a comfortable and practical workstation.
Your office spaces will substantially impact your employees' work environments and cultures. Offices with modern amenities typically have higher levels of employee happiness and engagement. Therefore, it is crucial to have a well-designed office that has conveniences and accents that would reflect your company's identity. Consequently, it is essential that you choose the best interior designer to carry out your visualization if you want your office to have the same interior design in practice as it does in your head.
The atmosphere of your office reflects the character of your company and is extremely important to both employees and visitors. 
How to Begin?
Knowing where to begin when planning an office renovation might be challenging. You may attempt to attain a specific look for your workplace or feel overpowered by the vast array of design alternatives available. The days of being limited to a wooden desk and a blue chair in a beige cubicle are over. The significance of avoiding job monotony has led to a current trend for creative and attractive office design.
It's a good idea to take pride in your work environment and shake things up every once in a while, so just thinking about making some changes is a significant first step. It's an excellent method to give the company a facelift without going through the hassle and expense of moving or rebranding. 
Businesses with a large workforce have started spending more on office amenities to persuade employees to spend more time there. What was once just office buildings are now home to high-end dining establishments, cafeterias, gyms, spas, and even on-site beauty salons and medical facilities. No firm is required to adopt these practices, but everyone can gain from learning about them.
In that case, keep the following in mind if you require advice from the leading office interior designers in Delhi when setting up your modern workplace:
What Should an Ideal Office Look Like?
It's likely that if you work in an office, you spend much time there. Some of us work in the office longer than we do at home. Though it's crucial to keep a healthy work-life balance, doing so in the modern workplace is only occasionally feasible.
Therefore, you would want certain office advantages and a cozy setting. But where do you even begin? And how can you make sure that everyone enjoys the workplace you design?
There is no predetermined guide for making a drab area more inviting for your staff. There are some specific things you can concentrate on to make sure you have the ideal work environment to get the job done, even though you don't have to aim to include mini-golf courses, carefully curated furniture, and design.
An office must be appropriately designed if it is to function effectively. The following elements should be taken into account during the layout design process, even if creating a genuinely perfect layout may be difficult in practice:
The design of an office should be created to allow for efficient and uninterrupted work. Every design must reduce the flow of people and paperwork. The sequence in which people and equipment are used to complete a task is as crucial as the occupations themselves.
Freedom of Mobility and Snooping
The floor plan should provide as much space as possible for people to move about and take in their surroundings without being hindered by walls or other obstructions.
Ample Room for Workers and Machinery
There should be enough space for each helper and their tools.
Facilities for Providing a Service
Workers' needs for internal communication, elevators, water fountains, break rooms, and canteens should be considered when designing an office. This is necessary for both the comfort and efficiency of office workers.
The highest echelons of an organization are given the luxury of a private office or chamber to do their business and concentrate. However, there should be a maximum of a few separate offices.
It's crucial to leave flexibility for expansion and adjustment. It can be necessary to make adjustments to account for the growth, such as recruiting more personnel or purchasing new equipment.
For formal work, eliminating distractions, especially noise, is crucial. Physical barriers should be built between the building's numerous loud areas.
Top Tips for Office Interior Design
You can move forward with the project if you are confident in the key elements. Use the advice in the following paragraphs to create a workplace that works well in terms of look, design, and functionality. 
Have Better Lighting for Better Productivity
It is advised to work in open spaces with abundant natural light for the best productivity. It is impossible to emphasize how much natural light improves worker morale and productivity. Get rid of the blinds and make your working area more pleasant by letting in as much natural light as possible. After all, you want your workplace to be where people look forward to coming to work and feel at ease while there. By using less artificial light, businesses may save money on energy bills over time, freeing up capital for other office needs.
Whether you are dealing with a large or small area, an open floor design can help you make the most of it. To accomplish this goal, it may be necessary to demolish cubicle walls, reorganize desks, or make other significant changes to the office's current layout. An open office layout makes better use of the available space and, in some cases, gives the impression that the office is more prominent and gives employees more opportunities to collaborate. This encourages a more productive staff since employees value extra cooperation and communication options.
Consider Adding Glass Partitions
Adding additional glass is one of the finest ways to keep an office current with the modern world. Glass partitioning systems are an option for contemporary offices that want to maximize natural light while promoting a more open environment and keeping some degree of privacy. When it comes to partitioning an office and establishing separate sections for meetings and other activities, it's a terrific alternative to solid walls and doors. Glass partitions can be used to enhance rather than detract from the aesthetics of a workplace, which is its best feature.
Experiment With Standing Desks
Many studies have shown that prolonged sitting increases the risk of severe health problems. If you have a 9-to-5 desk job, you can expect to spend much time sitting at your desk. However, many companies have included additional standing choices in the workplace to counteract these health concerns and look out for the well-being of their employees.
Workers in physically demanding professions often need to take the necessary breaks. Thanks to sit-stand desks, employees can take a break from standing at their workstations. However, they could be expensive, so it's worth looking into different standing workstations if this can't be included in the budget for office remodeling.
Brighter Colors Make the Office More Engaging
Consider the tasks performed in the area and the desired atmosphere while selecting a color scheme. As much as we might try to deny it, the fact remains that different colors affect our minds differently. If most initiatives at work need collaboration, blue should be part of your color palette. As a result, there will be less anxiety and greater productivity. The color green supports creative thinking and tranquil environments. 
In environments where staff members are expected to exert great energy and excitement, yellow and orange should be employed more frequently. White walls excite the mind and give the appearance of more space when combined with daylight. It also makes it easier to concentrate. The best way to achieve the desired effect is to combine a bright color with a neutral shade, like gray. Color schemes and lighting should be chosen together.
A chic and functional workplace setting is necessary to maintain strong employee morale and productivity. If individuals spend much time in the office, making it a pleasant workplace makes sense. No one intends to make a cold, soulless, and uninviting environment employees dread coming to each day. Hiring office and bedroom interior designers in Delhi is a good idea if you want your workplace to appear excellent.
Where Can I Find a Great Office Interior Designer?
Technology advancements are causing businesses to upgrade to more contemporary workplace designs. The aesthetics of your office space influence clients' perceptions of your business. If you choose a reputable interior design company in Delhi, you can be confident that your new workplace will greatly reflect your company's values. 
It's essential to design your workspace with your company's brand in mind if you want to see it through to your long-term objectives. To accomplish this, a knowledgeable professional may customize an office layout to your requirements because brand management is simple with the help of an experienced interior designer. The expertise of a professional interior designer can be invaluable when trying to maximize a limited amount of space. 
A skilled interior designer would use only the best supplies when constructing an office space. These experts can make deft choices that can help you save time and money. 
AIA India: Adding a Degree of Difference
Whether you undergo a complete office renovation or make a few little changes, it's crucial to remember that the workplace reflects the company's image and can significantly impact staff productivity and visitors' perceptions. So, have fun and be creative with AIA India!
AIA India Interior and Architectural Design Company have consistently questioned the usual way of thinking, adding a fresh perspective to interior design. We specialize in designing cozy and fashionable interiors for both residential and commercial buildings.
About Company
"AIA India, a renowned corporate interior fit-out firm, is one of the subsidiaries of Capital Group (a group of companies). Our company specializes in general contracting, interior contracts, and design-build models. We rely on external resources sparingly, giving our clients a flawless experience. Corporate infrastructure, retail, and hospitality spaces are a few of the segments we cover."