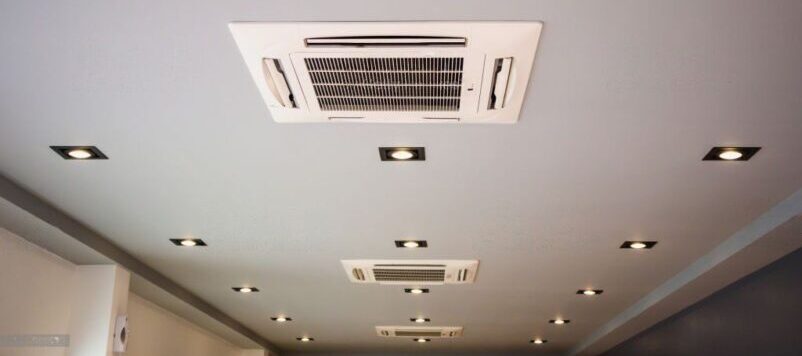 HVAC or Heating, Ventilation, and Air Conditioning systems are regulatory machines that move air in and out of the room, thus maintaining a balance between good quality air and comfort. HVACs are usually installed in most households, retail stores, and commercial places, even in office spaces, so that people can use adequate, comfortable, filtered air.
The introduction of these air filtering systems made people's lives easy in terms of having a rHVAC Designeliable source of fresh air, which is pretty valuable in today's time. People living in tier-1 cities especially need access to fresh air because of meagre air quality. HVAC design systems significantly enhance the air quality inside an enclosed space, allowing them to provide heating and cooling aid to commercial and residential hubs.
Why Should Companies Go with Smart HVAC Technology?
Today is the time of state-of-the-art technology taking up most of the intricate work of and for people like us. That is why we see a sharp rise in numerous automated smart devices and mechanisms taking charge of our daily lives and actions linked to them. Having that said, one such advanced concept is smart HVAC technology that consists of high-tech heating and cooling mechanisms, voice-command remotes, automated sensors, etc.
The very purpose of drawing technology into corporate and residential life is to make people's lives smart, quick, and resourceful. Here are the reasons why organizations must consider smart HVAC technology for the forthcoming time –
Minimized and reduced operational costs derived from smart HVAC tech could help the companies invest that amount into much more profitable decisions, solidifying revenue numbers.
Investments in constructing smart buildings and infrastructure are a great sign of attracting fresh and talented recruits. This could be a massive opportunity for companies planning to intersect the competitive market via powerful, skilful recruitment.
What's Different About Smart HVAC Technology?
A smart HVAC device in an organization does not involve much effort from the facilities staff, which makes it a viable choice. In addition, significantly lower electricity costs and enhanced comfort level make it different from the old ventilation systems. Instead, a few of the newer versions are extremely powerful in collecting and storing data and temperature patterns and adapting to the usual commands. Such features enable them to optimize performance measures and provide the utmost comfort to people.
Why Is Smart HVAC the Right Choice for You?
After a brief talk on the significance of the role of automation in heating and cooling mechanisms, let us explore the key benefits that they bring to the table –
One of the main reasons why people want heating, ventilation, and air conditioning (HVAC) systems in their homes is the comfort level they bring with them. A smart HVAC render's unmatched contentment enables you to carry out your routine activities with simplicity and quality.
Along with unmatched comfort, you get convenience via good-quality, filtered air in your space. Heating and cooling in harmony let you enjoy your surroundings, even when you're working.
Smart HVAC technology has become the talk of the town – with remarkable features like automated voice commands engineered to make lives simpler.
With technology-driven features comes optimized performance aspects, including variable speed fans. It is an effective option for those who want to control the fan speed according to seasonal demands, the number of people in the room, indoor air comfort level, etc.
Demand Controlled Ventilation
Along these lines, customized speed fans equal the definition of a controlled ventilation feature that proficiently works on the user's air level demands. Whether you want to run the fan for some time or enable cooling/heating along with the fan, smart HVAC technology allows you to make your way exactly how you want.
Variable Refrigerant Flow, a feature of HVAC systems, allows them to control refrigerant, which is required for a single heating or cooling session. Advanced HVAC mechanisms can remotely control the cooling potential of the whole unit for different zones. It benefits large corporate spaces that can make cooling or heating less or more effective for individual office zones.
Carbon emissions have been a major threat to Mother nature. However, smart HVAC technology has proven to be an outstanding alternative to the old-school ventilation systems that have been emitting polluted air into the atmosphere ever since. The newer models soak up less energy and provide relevantly enhanced performance.
Different Sensor Technology
Large spaces are highly prone to excessive CO2 levels, which might affect people's lives, breathing habits, etc. However, with the help of advanced CO2 sensors, your HVAC system can detect if the space has an excess amount of CO2 present. If so, it can ring alarms to alert people to safety measures.
Heating and cooling demands could differ for each zone in a big place, especially in an organization. Thus, the thermal sensors of an HVAC system can significantly adjust to the user's demands and make each section of the place differently comfortable.
Having access to natural light is more necessary in today's time, when individuals like us are burdened with enormous screentime issues. Smart HVAC systems can detect when the sunlight is strongly feasible in their direction and thereby produce maximum output.
Usually, when people leave their office space, lighting and ventilation systems remain turned on, thus leading to unnecessary energy use. But, smart HVAC systems with occupancy sensors can detect the presence of people in the space and adjust the system performance accordingly. It came out as a magnificent feature to optimize power resources and change cooling or heating potential on a real-time basis.
Conclusion…
Investing in premium air quality in your office or residential space has become a basic necessity for people, especially those who have young and elderly in their homes. HVAC Contractors in Delhi provide you with multi-functional HVAC systems combined with advanced tech specs. AIA India offers exceptional HVAC Consulting services in Delhi NCR to support your idea of economic and smart ventilation systems. Contact our experts today!