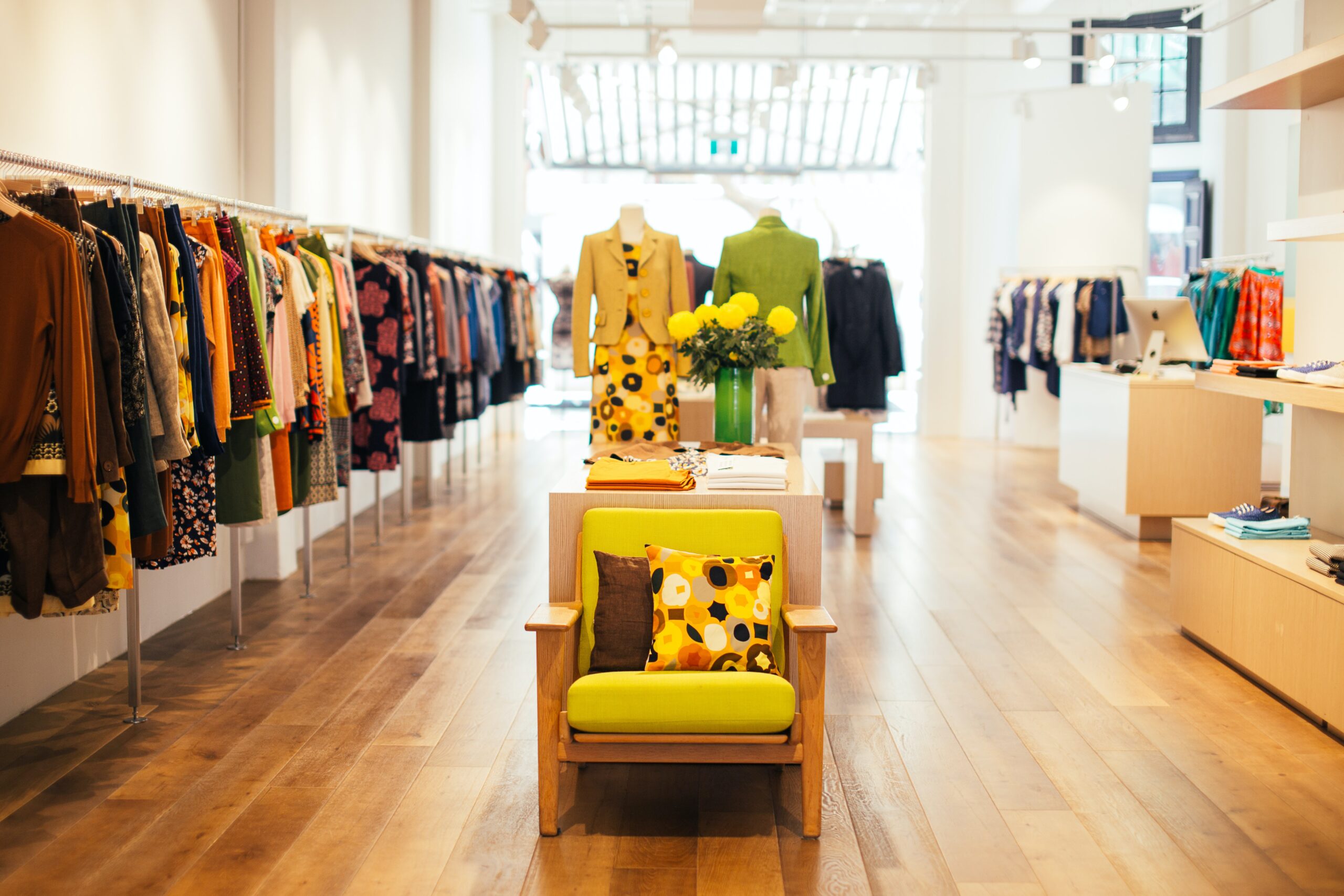 With these ideas, take your showroom's design to the next level!
The interior design of a showroom is crucial for drawing consumers in and ultimately persuading them to make that essential purchase. The store's design, the way the shelves are organized, and the walkways all significantly affect a customer's mood.
To increase sales, retailers should know a few standard design techniques. Because who wouldn't want to shop in a store with incredible interior design? Your company's interior layout has a purpose beyond aesthetic appeal. The likelihood of making a sale increases when you make the proper design decisions that encourage customers to stay longer in your store.
Humans are known to be visual creatures; therefore, to capture and hold their attention, you must provide them with something aesthetically appealing and stimulating. The best way to start is to focus on the store design. Retail design plays a vital role in this process. Running a brick-and-mortar store requires you to take the time to arrange your inventory to increase conversions carefully. Each retail space's layout, idea, vibe, lighting, and size may differ, but their common goal is to entice people inside and convince them to spend money. Many stores have explored and have looked into every option possible, from introducing alluring smells to playing soulful music.
If you manage a retail business, the store design can make or break your dream of growing your company to new heights. From how you direct clients into the store to the product display, every store design element affects the customer's route to purchase.
Join us as we explore the crucial considerations every retailer needs to create a successful retail interior design in Noida!
What is Retail Interior Design, and Why is it Important?
The secret to getting retail store design right is understanding the customer from the initial planning through execution and delivery. This article will examine six retail design strategies that you can utilize to improve any retail setting.
Brands have the chance to be innovative with their spaces through retail interior design and draw people in a brand-new way. Stores have the opportunity to create an immersive environment that ensures the brand sticks in mind and significantly raises the likelihood that a consumer will return through creative designs and striking signage.
First and foremost, it's critical to grab the client's interest and demand their attention. Due to their busy schedule, modern shoppers frequently rush through their shopping. Retail interior design's task is to lengthen customer stays in the store by slowing down their journey. It's essential to recognize the influence of retail window design. Eye-catching visual merchandising can attract customers and persuade them to enter a store. Consider the countless customers who will walk past your window. This is your time to seize the moment and tell a tale you will continue inside the shop. Another way to achieve this is by positioning a sizable, striking display near the entryway. Customers sometimes make snap judgments about a store's aesthetic upon entry, so having something distinctive there will probably entice them to stay and browse.
It takes art and science to make the inside of a store or other retail facility more inviting, alluring, and comfortable for customers to spend time in. Although a retail interior designer may use components comparable to those used in home interior design, there are different planning and implementation procedures since the purpose of retail interior design is different. Multiple methods are utilized in retail interior designs in Delhi/NCR, which all boil down to the objective, needs, and budget.
To be on the right track, you must keep a watchful eye out for the latest trends and what customers want!
6 Things You Need to Keep in Mind for Your Retail Interior Design!
Have you ever questioned why the store of your rival is frequently buzzing with customers while yours are empty? It's all because your competitors hire an interior designer who is more knowledgeable about these techniques than you are.
You must thoroughly understand these fundamentals to create an efficient interior design for retail that will draw clients.
Choose Your Colors Wisely
One of the most critical aspects of the design process is the selection of colors. Color selection is an essential aspect of store design that can increase sales beyond simply being aesthetically pleasing. Colors contribute to creating a unique environment and help clients understand the brand's personality. Colors directly influence people's views of the retail outlets around them. It impacts how long visitors choose to stay, how they feel there, and whether they ultimately decide to purchase. For the colors to accurately represent the brand and for customers to begin to link them with the brand, you can also incorporate the colors from the logo into the retail design. Overall, good planning should go into retail design, taking into account the personality and tone of the brand as well as the preferences of the target audience.
Find Out Which Direction Customers Turn First
The next time a consumer enters your shop space, pay close attention to their initial step. The internal and external factors influence a specific retail location that, independently of all other elements, dramatically affects whether a customer turns left or right. Utilizing store layout ideas that drive customers in your desired direction is essential for successful retail business planning. While there may not be much that can be done to alter outside circumstances, it is still possible to design a store plan that considers the external environment to maximize potential inside the store. Pay special attention to what you select to exhibit and how you present it in the most visited area of your store. You want to ensure you capture your customer's attention whether you are offering or staging new or seasonal items, high-profit or high-demand products, or products that tell a story.
Slow Down the Customer Journey Inside the Store
After all the time and effort you have put into correctly merchandising and cross-merchandising your products, the last thing you want is for arriving customers to rush by them. Modern consumers run through the crowd and make impulsive purchases because they are constantly swamped with office work and chores. Because of this, it is a retailer's responsibility to use retail interior designs in Delhi/NCR to entice customers to take their time and enter the store. Customers can investigate new things and selections by being given more time to move slowly. A suitable store layout is the first step in slowing down customers, and it continues to create a seamless and enjoyable shopping experience. The structure of your store determines how your products will be displayed and how shoppers will move around your retail space. Among all the available options, a loop layout is considered ideal for creating a smooth path for customers.
Keep Updating the Product Displays
Customers aren't always motivated to buy products based on the design, feel, and appearance of your product displays; a lot also depends on how frequently you refresh your collection. Because displays in the retail sector could quickly grow stale, you should make a plan to update them frequently. Most retailers employ distinctive display fixtures and merchandise outposts to place their goods at the end of aisles or in between them. While enhancing nearby products on display, these displays stimulate impulsive purchasing. Remember that you should switch things up once a week or more frequently to keep things interesting for repeat customers. To draw customers, think about utilizing interactive or visual merchandising displays.
Keep Your Interior Design Spacious and Comfortable for Customers
Most shoppers will steer clear of aisles where they might accidentally brush across another shopper behind. This is true even when a buyer is fervently interested in a specific product. A well-planned retail shop design may work wonders for your business, but it's also critical for merchants to offer their customers some room to breathe. If you rush to add bells and whistles to the interior design of your store, you can end up overcrowding it, which suggests that the goods are of low quality. Create some gaps in the schedule to offer customers time and space to consider their purchases and options, as this improves the shopping experience.
Make Your Checkout Section Interactive for Customers
For days, you could ponder the optimal location for your checkout counter and point of sale in your shop design. A good general rule of thumb is to place your checkout at the logical end of the shopping path you have intentionally designed. You leave a lot of money on the table if you do not embrace your checkout counter. So make the most of your checkout area's store design and allow such impulsive purchases to boost your sales. But keep in mind that the checkout process should be planned to be simple and inexpensive.
With AIA India, your interiors will be adorned with style at every angle!
Customers increasingly use online retailers to find what they need or want in today's digital world. Consequently, this is causing a decline in the number of people visiting real retail businesses on the street. Effective design is one strategy the retail sector uses to offset this effect. Retail design, which combines interior decoration, physical layout, and advertising in a business, can make the difference between an inviting space and a quickly forgotten one. Practical and well-considered retail design can help you stand out from the competition, which has several advantages for your business in terms of turnover and from an employer's perspective. You may assure the success and prosperity of your retail business by enticing people to visit your store rather than searching online for what they need.
Retail interior design is a never-ending process. With new trends popping up every year and shifts in customer preference, there is always room for fine-tuning. But you have to get your basics right to steer the customer in the right direction, motivate them to purchase, and influence them to spend more time in the store. And you can achieve all this with the world-class retail interior design service that AIA India offers.
AIA India has been at the forefront of the interior design sector for many years. We are renowned for our timely completion, unmatched service excellence, and personalized approach. Since we have experience working with companies of all sizes and industries, we know the requirements for successful interior design. Get in touch with us via chat, email, or phone and benefit from the best retail interior design service in Noida!
About Company
"We focus on general contracting, interior contracts, and design-build models. Because we rely on a few outside resources, we can give our clients a seamless experience. We handle a variety of areas, such as corporate infrastructure, retail, and hospitality spaces."