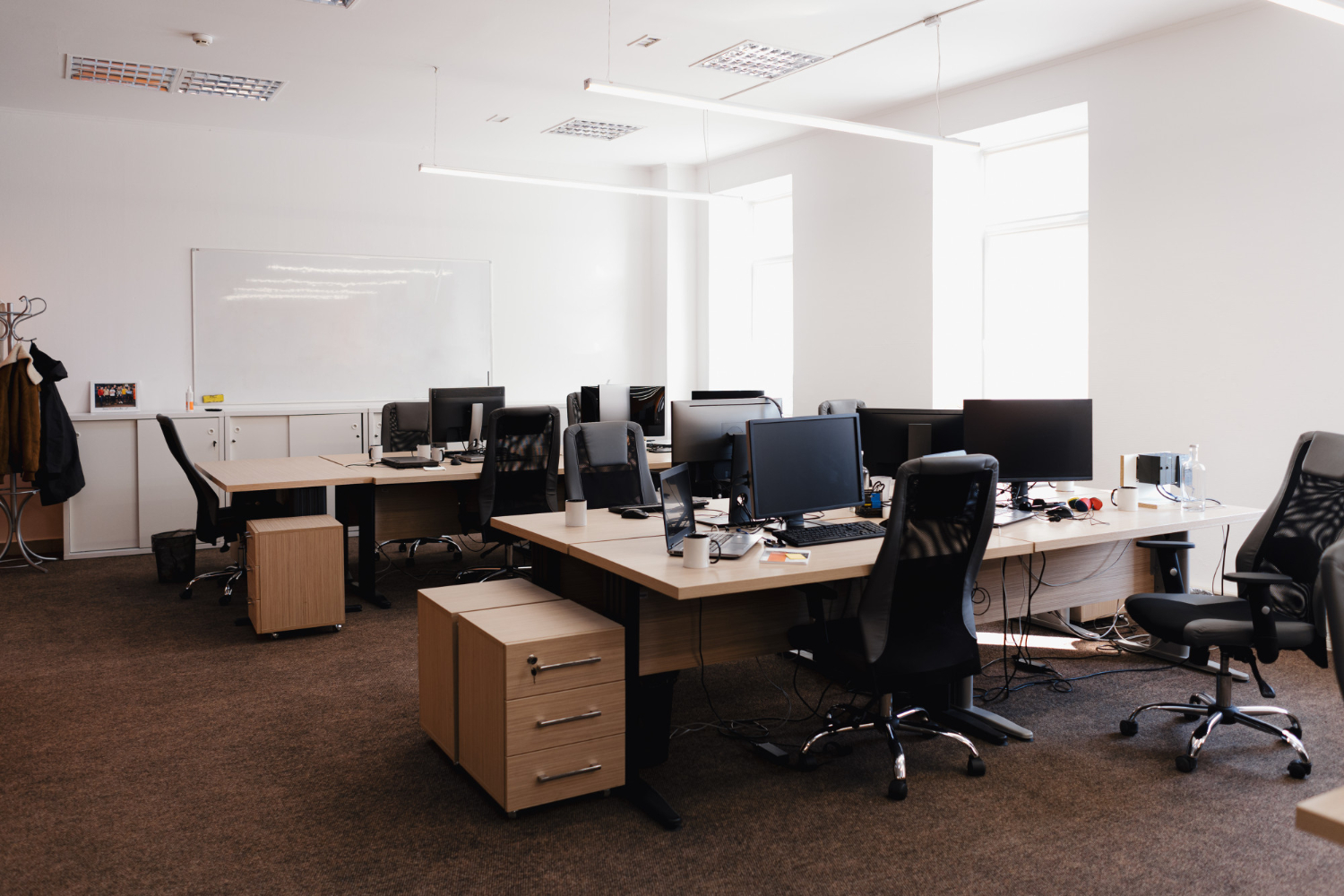 The right work environment allows employees to grow, learn, and communicate!
The days of seeing rows and rows of identical office cubicles as far as the eye could see are long gone. Nobody works effectively in a dull, sad environment; therefore, it's critical to understand how to design stimulating spaces where thoughts can readily flow, and staff members may feel motivated.
Everyone knows that a company's productivity is powered by crystal-clear objectives, good team leaders, a dedicated workforce, and state-of-the-art technological solutions. Your surroundings may also significantly impact your feelings, but did you know it can affect your productivity? Designing an office entails more than merely enhancing its aesthetic features.
You may boost your vigor, creativity, and motivation to tackle the day with various easy and affordable office design options, especially during the dreaded afternoon slump. Most importantly, it negatively influences their productivity and may cause them to feel lethargic at work. It has been demonstrated that bad office interiors hinder employees' creativity, concentration, and productivity. However, you may quickly bring about a change for the better by customizing your office interiors with the appropriate pieces.
The leading office interior designers understand what is best for your workplace, how to increase productivity, and how to make the most of every square inch of available space. However, working on office interior design doesn't necessarily mean starting from scratch, which can cost you an arm and a leg. Most of the time, small things often go unnoticed, such as the proper placement of lighting, the number of plants, and the appropriate space between two areas, among other things. We have compiled the best advice for increasing productivity through effective interior design. But let's first examine its significance!
The Importance of Office Interior Design!
An excellent office design is essential in today's business world for a company's staff and any clients or customers who could stop by every day. The working atmosphere in an office can influence whether a company succeeds or fails in the long run. 
Customers and staff both value good office design. Every business should consider its interior design because it represents its brand and work. A good interior design can create a flow, communicate professionalism, and enhance employee morale and efficiency while generating a great first impression on clients or suppliers. 
In reality, a well-designed office is crucial to the success of your business. It is vital to design a practical and aesthetically pleasing workplace for workers who spend a significant portion of their day there. This makes it evident that well-designed workplaces can raise employee productivity, efficiency, and attitude at work. The goal is to make changes to the workplace so that workers like going there rather than feeling compelled to do so. Interior design affects people's energies and moods in unconscious and conscious ways. As a result, choosing its design is among the most crucial choices a business can make when forging an identity and a productive workplace.
Workplace design should also feature areas that encourage collaboration across teams and are cozy and welcoming for satisfied employees who add to the bottom line. Remodelling your office to give it a clean, contemporary, updated design is a worthwhile investment in your company that can significantly impact its future performance. There are several advantages to updating or renovating your office.
Be More Productive with Your Office Interior Design
Success in the modern business world depends just as much on the office space as on the staff. If businesses want to get the most out of the productivity of their employees, they would be well to pay attention to a few interior design considerations.
Make Working Area Spacious 
Many small offices struggle with arranging their office furniture and making everything function. Choosing and arranging furniture can seem like an insurmountable arithmetic problem in a cramped, compact office. Selecting furniture that matches the area and has various uses is one way to make the most of a workplace. Making imaginative use of your layout and finding ways to position your furniture to maximize every square inch, including tricky corners, are other crucial steps in the process. Cubicle workstations are the only option for limited space because they effectively optimize space and discussion areas. The most excellent method to make the office pleasant is to evaluate its strengths and make those the center of attention as much as possible.
Use Soft & Pleasing Colors for Your Office Interior
A suitable color scheme is one simple but powerful technique to create a productive atmosphere. Choosing the color of the walls is as crucial as matching the desks and chairs in your office. Change the environment with a new paint color if your office's general enthusiasm and productivity are flagging. Your choice of workplace paint color can have a significant impact on both the productivity of your staff and the success of your company. Saturation is crucial when choosing a new color to paint your business. Finding the ideal energizing and relaxing hues is essential for a productive workspace. The culture, needs, and work habits of your organization's personnel should be considered while creating this balance. If your staff members are experiencing mental fatigue, consider combining these energetic yet subtle hues.
Make Plants a Part of Your Interior Design
Indoor plants brighten up drab work environments; they also improve air quality and have been shown to increase employee productivity. It gives any office area new vitality, piques the senses, and benefits individuals and their surroundings. You may mix and match a variety of plants, including snake plants and succulents, which are excellent options because they are sturdy and take up little space. You can take advantage of them by arranging them in lovely decorative pots and on walls to create a focal point for your office. It would be wise to engage someone who could water office plants to keep their lovely purpose of sustaining the office atmosphere. These treasured plants should be well-maintained so they don't perish since they bring peace and tranquility to the environment.
Allow Natural Light in Your Office
No matter how many artificial lights you have in your workspace, they will never be able to replicate the sensation and impact of natural sunlight fully. Offices appear gloomy when there isn't even a single natural light source. Employees can benefit from exposure to natural light in various ways, which increases workplace productivity. Employers should make every effort to increase natural light in the workplace, given its sound effects on workers' moods and productivity. Whichever technique you employ to let more natural light enter and reach your workers, the results will be profound. Business owners and management teams should anticipate happier, more concentrated, and more productive employees if they let natural light into their offices. While perks like corporate cars and gym memberships might motivate employees, natural light is believed to have the most substantial positive effects.
Showcase Artworks or Paintings in Your Office Décor
Visual art explicitly encompasses a wide variety of artistic stances. Beyond aesthetics and décor, displaying paintings and other art pieces in your workplace has several advantages. Whether you are updating, building, or remodelling your office, art will always play a crucial part in the design. Businesses can address stress reduction, increase creativity, and promote the free expression of ideas by incorporating art into the workplace. Employees can take a break from routine tasks thanks to artworks or paintings, which inspire people to think creatively and help set the tone for the culture the firm wants to foster in the workplace. It frequently leaves a lasting effect on guests, serves as a great conversation starter, and facilitates non-verbal communication. Office artworks or paintings often reflect the company's character and are an effective tool for developing brands.
Choose Comfortable Furniture
Low productivity will increase costs, waste time, and diminish potential earnings, which are undesirable to businesses. Productivity can be boosted by choosing the appropriate furniture for an office setting. An uncomfortable employee may frequently halt their job to adjust their position, which could impede and slow down their productivity. One of the easiest ways to ensure employees are relaxed and content is to provide comfortable chairs. They help prevent back, neck, and shoulder problems brought on by poor posture when sitting in an uncomfortable chair, slowing down employees' job efforts and occasionally necessitating time off for treatment. Comfortable seats are an excellent way to address this issue because it naturally affects office productivity.
Let Your Employees Personalize their Workplace
Personalization is simply one method for recognizing our individuality and uniting everyone in pursuit of growth and progress. Going above and beyond to support a more human-centered workplace could enable your staff to produce their best work. There are a few guidelines that employees should follow while personalizing their workspaces. Additionally, individuals should be encouraged to express themselves and establish relationships with co-workers to contribute positively and work hard to meet organizational performance goals. You may achieve a win-win situation by allowing your staff to personalize their workspace while clarifying your rules and expectations.
Use Proper Storage Spaces to Eliminate Clutterness
Clutter can seriously hinder productivity and prevent you from finishing high-quality work promptly. The ideal setting is calm and organized so that you may focus entirely on the task. Clearing up the clutter in the office has always been difficult for any business. After all, it's unavoidable for things to start to accumulate over time. Decluttering with a good dose of organizational makeover can not only sanitize a space but also enhance one's health and job satisfaction. Improving workplace productivity is among the most apparent benefits of a modern, well-kept workspace. Its organization not only impacts how clean it is physically but also how productive it is. In light of this, having a flexible workspace is crucial so everyone can make the most of their time and effort at work.
Take Advantage of Innovative Meeting Rooms
The era of sterile offices with uncomfortable furniture is over. Modern conference room design alternatives are being adopted by workplaces today, incorporating contemporary interior design concepts into collaborative workspaces. For the modern office, the design of the meeting room is crucial. Given how important meetings are, designing a conference room has always been necessary. Every business, regardless of size, needs a well-designed area created especially for cooperation. This can involve adopting modern technology, ergonomic furniture, and meeting room titles that are well thought out and branded. Modern technology must be used in the workplace for a meeting room to be effective and productive. 
Don't Let Wires Hang Around in Open
One of the biggest irritants in technology is cable clutter. Nothing clutters up an office like wires flowing everywhere and hanging off your desk. No matter how large your workplace is, how quickly people walk around, or how big each employee's cabin is, the office will look cluttered and uninteresting if there are too many wires hanging around. It's time to start managing the computer cords on and under your desk. Take control of your technology and conceal your desk cords. Purchase a wireless mouse as well as a wireless printer. Add a grommet to your desktop to lead any wires from your desk below. Any visible wires should be attached to the underside of the desk or run along a desk leg. With the help of a straightforward cord tamer, gather any loose cables on the floor.
AIA India: Let us help you turn your vision into a reality!
Though there may be dozens of variables that affect workers' productivity, few are as significant as workplace culture. Simply put, when people feel secure, at ease, and content, they perform better than when they do not. How you design your office décor could impact your future working environment. Your work environment should reflect who you are. AIA India is there to help you with this. Let's get started on designing your attractive and practical office right away. As an expert in commercial interior design, we know how to plan without sacrificing aesthetics. We play a significant role in the commercial office fit-out renovation and construction process and collaborate closely with manufacturers and contractors to carry out detailed office furniture and interior projects. We define the project's scope of work, create blueprints and schematics, choose the best materials, and assist clients with managing budgets and schedules.
We at AIA India, the most reputable interior design firm, know the requirements every workplace must meet to increase worker productivity. We create workplaces following each client's needs using the appropriate tools, a process, and a bespoke approach.
To find us in your search listings, type "architect office interior design in Delhi," and "architects and interior designers near me."
About Company
"We focus on general contracting, interior contracts, and design-build models. Because we rely on a few outside resources, we can give our clients a seamless experience. We handle a variety of areas, such as corporate infrastructure, retail, and hospitality spaces."