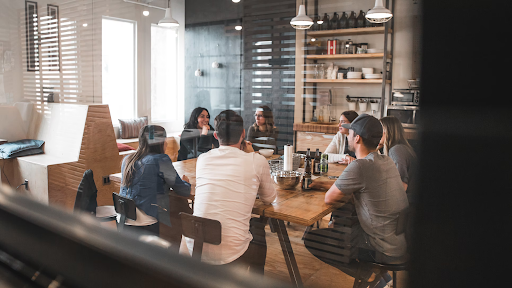 With time, the situation has improved, with people getting extensive access to vaccination, which allowed corporates worldwide to reopen their gates and kick off work from the office anew. However, with the pandemic remaining in the environment, workplace sanitation and social distancing became a part of the new corporate culture!
The post-pandemic world requires offices to have sanitized office interiors that are aesthetic and exceptionally feasible during the current phase of life. Well-spaced office interiors in Delhi, NCR allow offices to swiftly resume their onsite services and ensure that their health is sheltered. This new-normal approach essentially requires specific changes to be made that gradually elevates the operational efficiency and emotionally assists the employees in the transition. Contemporary designs for office interiors in NCR render efficient work flexibility – an imperative element that makes a corporate structure go beyond its short-term goals, especially during the pandemic scenario. 
Let's discuss major upcoming trends in office culture that will help us in returning to the offices:
Workstations that allow Social Distancing – New Layouts and What to Invest In
Personal workstations that are positioned equidistantly promote a healthy and safe work ambiance in the offices. Especially at this time, this new idea must be formulated to give high preference to the open connectivity of the employees and their bays. Even the office restrooms, cafeterias, and other places where employees could come in mass need to be transformed according to the social distancing norms issued by the state governments. 
Such changes help offices adjust their maximum capacity by allowing a certain number of employees to work from the site and ensuring that their health is given the utmost priority. The old layouts of the office interiors must be upgraded with healthy and sterilized aesthetics that, in a way, encourage people towards social distancing and, along with that, promote new ideas to keep the business operations up and running.
The areas that need immense investment in creativity, hygiene, and awareness are where people usually gather. And instead, a new layout that presents convenient, personal space must be considered to welcome the new changes to the workplace.
Open Floor Plans Are Still a YES
Open floor systems for corporate places are a great way to promote effective space development and reinforce social distancing norms. Usually, such a kind of seating arrangement is preferred to motivate employee communication which fuels their will to collaborate for efficient operations. It also functions as a great ambiance that allows employees to let their ideas drive on their own and helps them with a flexible working habitat, thus raising the bar for average productivity.
Therefore, when offices have to adhere to COVID-19 protocols, adopting an open floor plan as a part of your new office interiors could be a huge success. The key objective to lay out an open floor plan in an office is to let the ideas float freely and help your teams coordinate better than ever. Of course, the need to bring this in recent years is to minimize the health risks and ensure that your employees adapt to the workplace with utmost hygiene. 
In addition, an open floor plan seems interesting and creative, which is a great way to encourage your employees to come to the office to work. Corporates must create a rather vivid office interior to exhibit a welcoming workplace that makes the employees happy, productive, and healthy.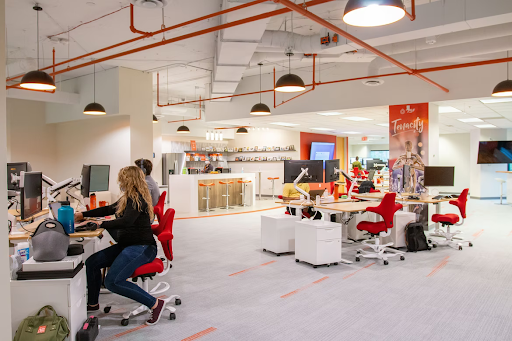 Creating Flexible Workplaces
 Workplace flexibility is absolutely imperative, especially when your employees are returning to the office. Astounding office interiors play an important role in redefining comfort and flexibility in corporate spaces. It provides two-fold benefits, which means both the employer and the employees experience the positive transition that a flexible workplace brings.
In general terms, your office workplace must allow your employees to be their best versions while not sitting in a cubicle. Open floor plans come in handy in elevating the employees' creative standards and keeping them equidistant from others. 
Furthermore, it has a direct proportion to the business's effective production rate, which has become a much-needed goal for every company in this current scenario. All that matters is the business revenue and employee contentment at the end of the day.
Choosing the Right Furniture, Finishes
Last but not least, office furniture must be upgraded to a more comfortable seating space to maintain a pleasant and aesthetic corporate environment. High-end office interiors can substantially bring multiple changes in the psyche of the employees- their perspective towards the work changes which refines to a smooth yet swift efficiency growth. These intricate finishes might not seem vital but are becoming extremely necessary to bring the business on track eventually. 
Choosing creative and comfortable furniture arrangements is an easy way to develop personal workstation space for your employees and adhere to the social distancing norms. They also promote better productivity and help the employees with faster task completion. Thus, companies must put a lot of effort into finding the best and appropriate furniture to capitalize on their operational efficiency quicker.
Takeaway
Are you interested in getting expert advice on designing your office interiors? AIA India is your one-stop shop for unique office space development tactics. We attempt to ensure that your office design looks astonishing, convenient, and pleasant for your employees. Our adept interior designers take your design visions into reality! Contact us today to book your appointment!